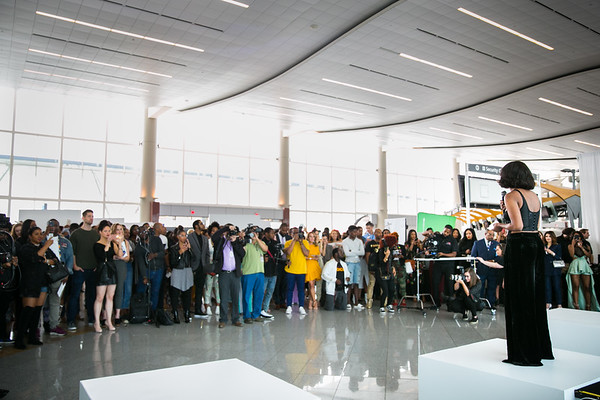 Hartsfield-Jackson Atlanta International Airport (ATL) presented Global Runway 2018, a fashion presentation and retail pop-up experience on Wednesday, May 16. Hosted by InStyle Magazine's Editor Kahlana Barfield, over 250 guests experienced a few of the retail offerings that represent ATL Skypointe, a program designed for guests to shop, dine and explore ATL. This year, guests also experienced an expanded industry-driven fashion experience, which included a silent auction to benefit Bert's Big Adventure. Kennedy Morgan, founder of Love to the Moon and Bert's Big Adventure special guest also experienced a full day of fashion which included hair, makeup, and styling by Global Runway's glam team. Kennedy also showcased her modeling skills in this year's fashion presentation.
In its second year, Global Runway featured four U.S. retail brands: Spanx, ExOfficio, Brooks Brothers and Sean John, which is celebrating their 20th anniversary. Also bridging the gap between beauty and style, the event highlighted national brands MAC Cosmetics, Michael Kors, Bijoux Terner and XpresSpa via a pop-up shop.
"Each year, ATL serves over 103 million passengers, and many of them are unaware of our award-winning concessions program," said Airport Concessions Marketing Manager Pamela Simmons. "In addition to being a global transportation hub, ATL is also a hub for quality global brands and Global Runway is designed to showcase these brands and raise the awareness of all that the world's busiest airport has to offer."
For more information about ATL Skypointe or to browse their 2018 lookbook, please visit: http://www.atl.com/atlskypointe/ .