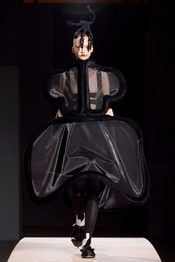 "Rei Kawakubo is one of the most important and influential designers of the past forty years," said the Costume Institute's curator in charge, Andrew Bolton. "By inviting us to rethink fashion as a site of constant creation, recreation, and hybridity, she has defined the aesthetics of our time."
This is not only exciting but big, big news since Rei Kawakubo will be the first living designer to serve as the theme and inspiration of the Met Gala since Yves Saint Laurent.
Vogue's Met Gala is fashion's biggest soiree bringing out an elite guest list of fashion designers and celebrities. Katy Perry and Pharrell Williams will cochair the event along with Anna Wintour of course. The Met Gala will take place on May 1, 2017.
The Costume Institute exhibit will feature 120 looks from Comme des Garçons/Rei Kawakubo.