For Carlos Campos's SS19 show for New York Fashion Week: Men's, the designer returned to the DNA of his brand. The collection featured expert hand tailoring, architectural silhouettes, and bold colors. Though the collection had a classic Carlos Campos feel, it was fun and fresh, rather than a rehash of something that had already been done. As key makeup artist, Dana Arcidy of Metro Look created a look with the same vibe—in line with past seasons, but updated and remixed.
Arcidy explained that the focus of makeup at a Carlos Campos show is always on great skin. A lot of the models came directly from other shows, so Arcidy and her team started with removing models' makeup as necessary. The team partnered up with A'PIEU, a Korean line known for its mild ingredients. They used All Clean Lip & Eye Remover, which gently removed all traces of makeup while soothing the models' skin with calendula extract. Next, they applied antioxidant-rich Waterful Bamboo Soothing Gel.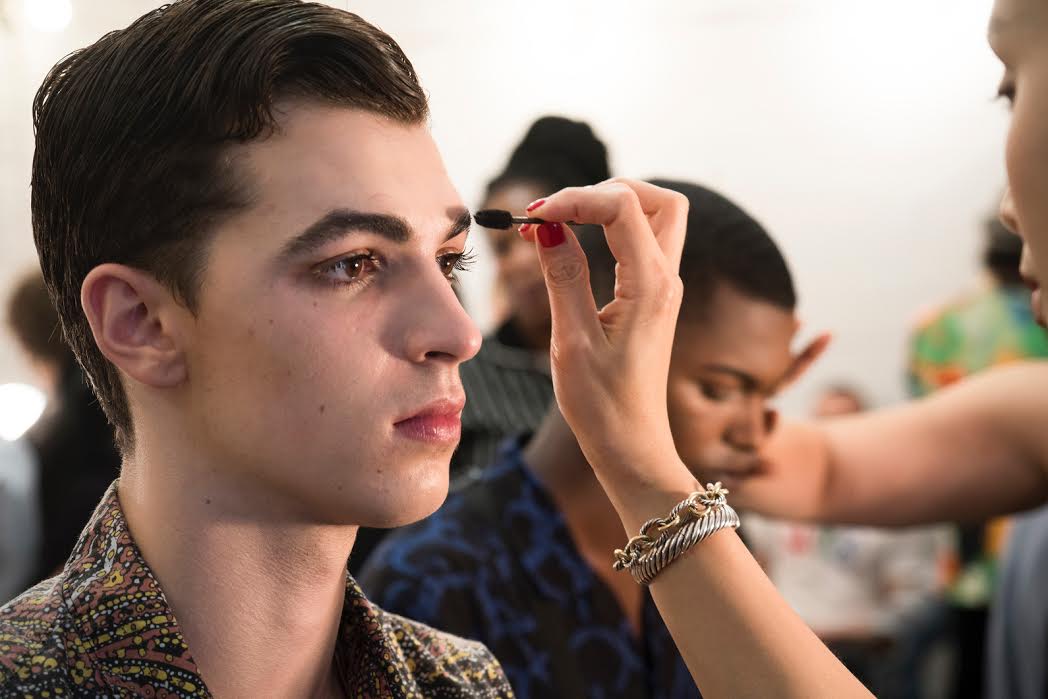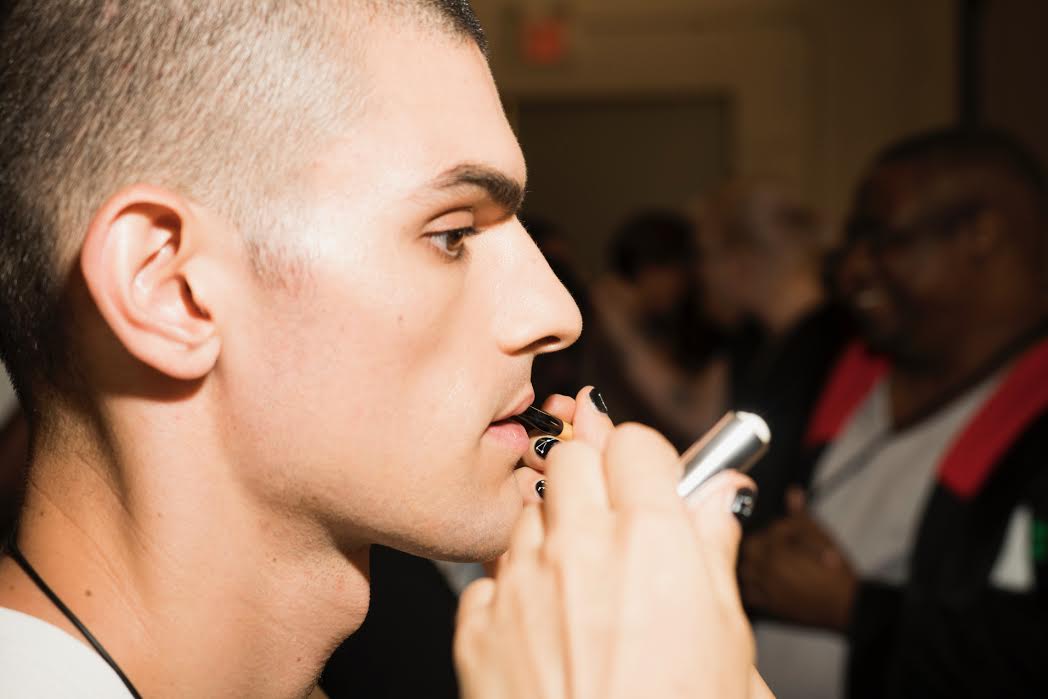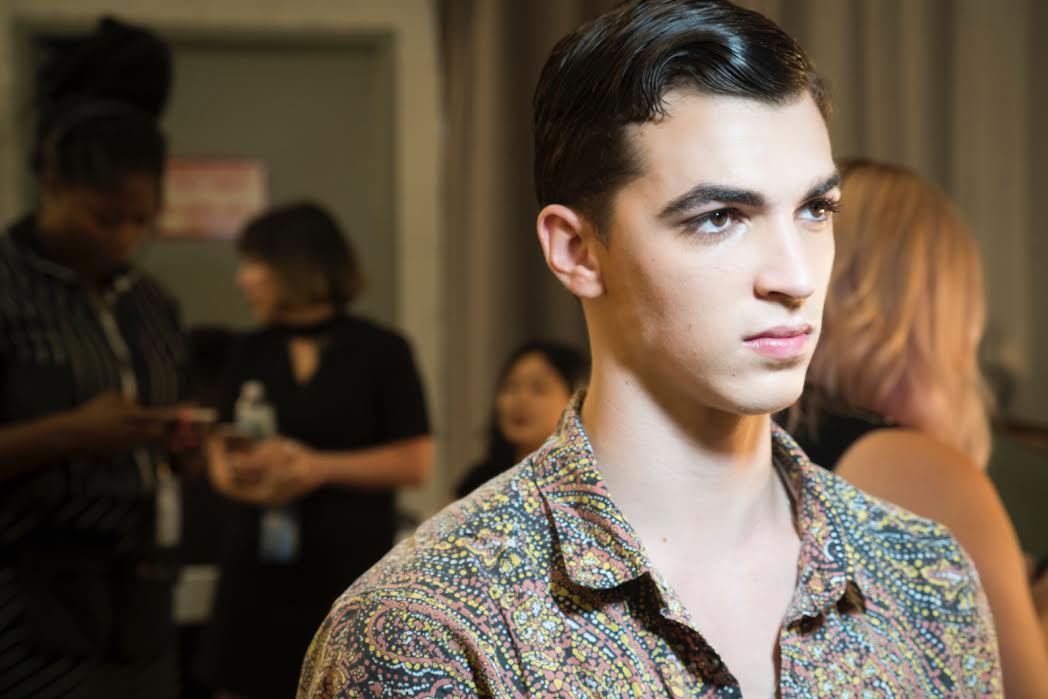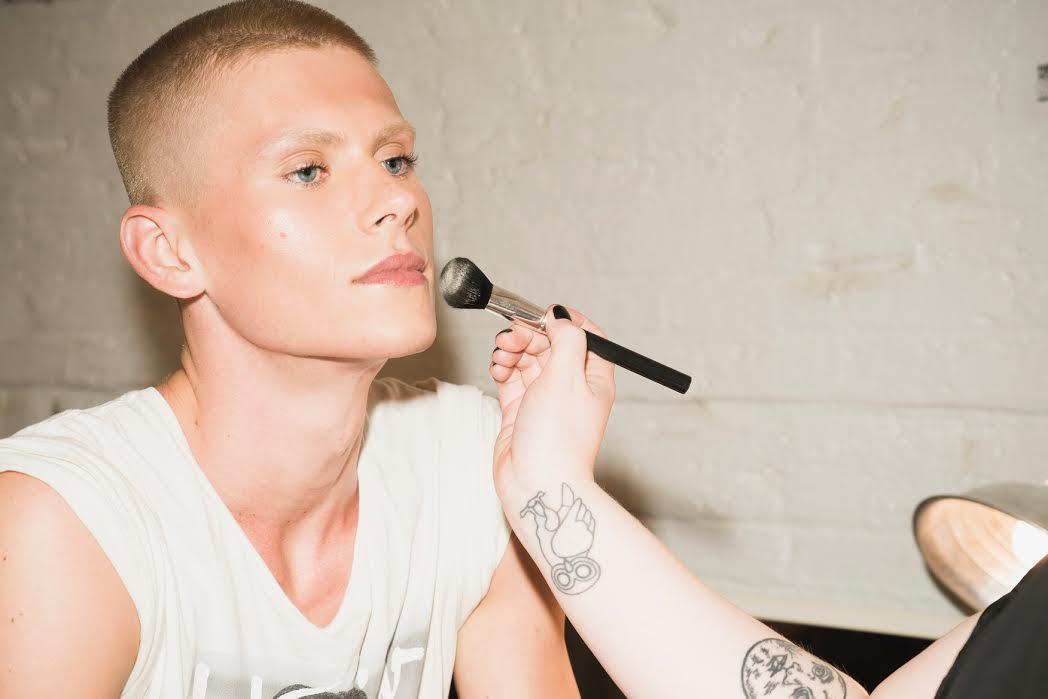 The team then buffed in foundation using brushes from Artis. The brushes are distinctively different in appearance from other makeup brushes, with some looking like gorgeously designed space-age toothbrushes. As Arcidy explained, the densely packed fibers taper to a microscopic level for superior blending. "It's like airbrushing without the airbrush," she said. The brushes enabled her team to achieve greater coverage out of a smaller amount of product, which also meant natural looking skin, a "must" on male models.
Next, the artists moved on to eyes. Brows were filled in, and then, in a change from her previous seasons with the designer, Arcidy instructed her artists to apply mascara to their male models' lashes. "We're putting on a bit more makeup this season and doing something a little prettier, because we want to call attention to the eyes," she said. They finished with lip balm that left a soft sheen on the lips.
While up-close the makeup may have been noticeable, as the models walked the runway, the effect was subtle. It was a small update to the ever-evolving Carlos Campos man.
About A'PIEU
A'PIEU is the sister brand of the K-beauty behemoth MISSHA. The brand is young, fresh, fun, innovative K-beauty. Products are formulated to be gentle yet effective on even sensitive skin. Everything is packaged colorfully and playfully.
About Artis
Created by Matthew Waitesmith, an accomplished artist, photographer, and lifelong innovator. Matthew's inspiration for Artis came from training tens of thousands of makeup artists over 30 years. He brought his perspective to the process of makeup self-application, to design and create a new category of beauty tools which enable a more natural and ergonomic experience. Today, Artis designs and offers instruments that are both beautiful to see and handle, and functionally superior to use for perfected blending and more flawless results.
About Metro Look
Metro Look was founded by makeup artists and hair stylists Dana Arcidy and T. Cooper. The two artists and their talented team collaborate on a variety of projects in the world of fashion and beyond.