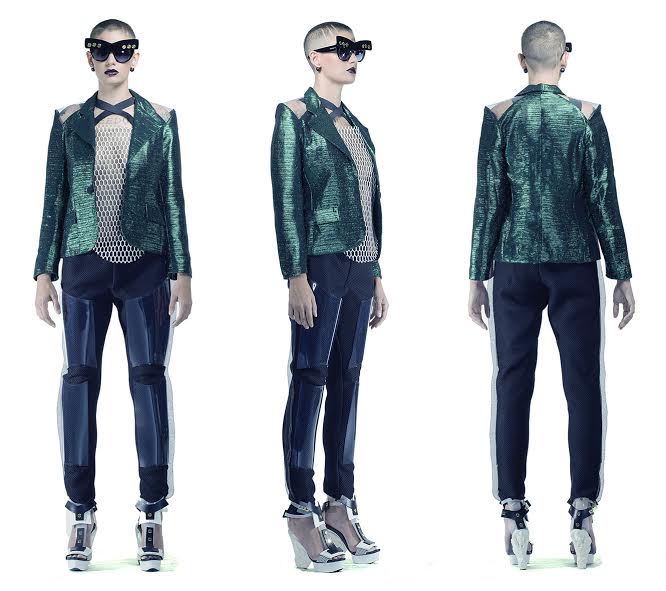 For Spring Summer 2016, Viktor Luna reveals yet another way of crafting modern fashion in his collection, NEW ERA. One cannot design for the future without looking to the past; in this case, the Sumerians served as a point of reference, with a signature integration of a futuristic, urban edge. Metallics and high-gloss finishes conjure a feeling of glamour and electricity present in the 1970's disco age. Tailored leather jackets layer atop multidimensional sartorial vesture. Pleated liquid lame is present in conceptual gowns as the technique cascades into more ready-to-wear styles, such as skirts and trench coats for both men and women.
This season, Luna creates a collaborative art film with Director, Sophy Holland, featuring the artists and performers who have supported his brand throughout his career. Names such as Laverne Cox, Jackie Cruz, Jonte Moaning, Leo Pelligrino and Samantha Diaz make appearances, alongside models such as Trevor Shapiro and Ashley Kolodner. [Laverne Cox fans] this video is everything! Great energy, choreography, music, cameos by Viktor Luna himself and of course, amazing fashion & style!
Spring Summer 2016 will also mark the first season that Viktor Luna will be showcasing accessories, collaborating with leading footwear designer Zach Lo and celebrity eyewear designer A-Morir. The collection will be available in November 2015 on www.viktorluna.com and select retailers. Each piece in the collection is hand crafted at Viktor Luna's NYC-based atelier.
Custom orders can be placed online at: www.viktorluna.com/shop.